DentalVision Enterprise
As a large group Enterprise practice, your needs are complex, but your practice management solution doesn't have to be. We understand your practice is providing exceptional patient care. As your partner our goal is to deliver equally exceptional service with a personal touch. DentalVision Enterprise® is a premier software system for large group practices. It's scalable architecture, robust feature set and flexible reporting tools make it the perfect solution for the multi-doctor, multi-speciality and multi-practice environment.
DentalVision Enterprise has the features you request most often of your practice management software.
True scalability for any size group practice
Citrix® gives you remote access to your database in one central location
An intuitive and user-friendly system, with a sophisticated appointment scheduler, detailed in-office status screen and comprehensive financial functions
Customizable security settings and complete audit trails
Comprehensive real-time reporting
Flexible external access to all your data via Open Database Connectivity (ODBC)-compliant applications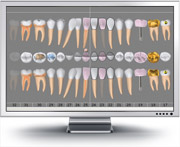 ClinicalVision™
ClinicalVision VR allows all members of the clinical and business teams to communicate patient care effectively and efficiently. Simply point and click to add a treatment plan or diagnosis for each patient. Using voice activation for perio charting is a great tool for recording perio health. ClinicalVision VR is also a great patient education tool and seeing is believing:
Get comprehensive perio charting
Compare perio exams to note patient's progress
View graphical charting with red, green, blue or realism display
Define charting icons for point-and-click charting of Existing Conditions, Treatment Plans and Completed Work
Sequence patient treatment by appointments or phases
Add common notes or notes specific to a tooth
Easily sort chart history by date, provider, status, code, tooth, surface or descriptio
Capture digital signature on patient treatment plans, progress notes, consent forms and patient health history
Customize health history and/or survey forms
Update Latex Allergy, Premed, Recall and Medical History fields; view Significant Medical History or Markers icons on chart
Access your data externally via ODBC compliant applications like Crystal Reports® and Microsoft Office®
Because we realize that no two enterprise groups are alike, we determine the unique requirements of your group and create a system to work specifically for you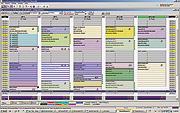 Appointment Book:
Color-coded appointments, alert icons and convenient scheduling features help your days run smoothly.
Managing your schedule for increased productivity
The sophisticated Appointment Scheduler keeps your day on track with color-coded appointments, goal tracking by column, in-office patient tracking and icons that indicate medical alerts and outstanding patient balances. The flexibility of this system allows you to:
Quickly and easily schedule multiple appointments for one patient
Transfer appointments between providers
Move appointments altogether
Identify open blocks of time in one simple operation
User defined appointment book views
DentalVision Enterprise offers Pre-Registration Connection, a feature that will save valuable staff time by allowing your patients to begin their registration process online. Patients can fill out their personal contact information in the privacy of their own homes or anywhere that offers an Internet connection.
The In-Office Status Screen allows you to effectively track a patient's entire visit from check-in to posting. From this single screen, you can see at a glance the status of every patient.
DentalVision Enterprise Ensures Your Security
DentalVision Enterprise Ensures Your Security One of the most important issues facing your practice is security. From patient privacy to fraud control, security is a constant concern. With DentalVision Enterprise, you can put your concerns to rest. DentalVision Enterprise allows your staff the freedom to do their job and the accountability you require to operate your business.
With DentalVision Enterprise, every transaction is recorded with actual date, time, workstation and user ID so every entry is traceable. In addition, back-dated transactions, one of the most common methods used to defraud a practice, are not lost in the mix.
Security settings can control the functionality of each field within the program. Screens can be set to read-only, individual fields can be restricted to certain users and adjustment amounts can be limited by login. In other words, every field on every screen can be configured to allow or restrict access, and limit the user to a range of entries.
Open Database Works For You
While other software companies encrypt your data, DentalVision Enterprise recognizes that the data you capture during a normal business day is yours. That's why we built DentalVision Enterprise with an open database. Robust reporting options along with a SQL client/server database structure allow for complete visibility into every aspect of your business:
Security Options: Every field on every screen can be configured to allow or restrict access, and limit the user to a range of entries.
DentalVision Enterprise will show you the ROI
DentalVision Enterprise goes beyond simple administrative tasks and offers an in-depth visibility into every aspect of your business:
Get flexible and complete reporting options, allowing you extraordinary access to all your practice data
Enjoy production, financial, insurance, communications and referral management functions designed to increase efficiency and profitability in your practice
Estimator
DentalVision® Enterprise, is the only Enterprise system that allows you to assign benefits and limits by code number to individual providers such as specialists, who often see a higher reimbursement than a general dentist. DentalVision® Enterprise gives you:
The ability to limit certain codes according to the patient's age
The ability to require or request prior authorization
The ability to change the estimate amount based on the time elapsed since the past prophylaxis etc.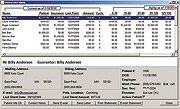 Interactive Aging:
Displays patient and insurance balances in the columns for the appropriate age of the balance. Also allows access to the Patient Information Center, including contact notes, letters and quick statements for the patients on the report.
Unprecedented Visibility in Accounts Receivable
With the help of complete Accounts Receivable Summaries and Aging and Collections Reports, you can track your receivables to the penny:
Generate a Real Collections Analysis Report that will compare your billed production versus your collections by month
Identify collection trends and calculate collection percentages by month
Test and determine successful collection strategies
Easily Identify Unused Carrier Benefits with Benefit Tracking
The Insurance Benefits feature truly makes insurance filing and claims simple:
Identify unused carrier benefits
Generate effective tools for analysis
Streamline insurance communication
Electronic Billing and Statement Generation
Eliminate excess inventory and the costs of printing, stuffing and distributing your statements by using DentalVision Enterprise's electronic billing feature. It helps you:
Improve collections
Maintain cash flow by facilitating prompt billing and regular contact with all your accounts
Transmit electronic statement data 24 hours a day, seven days a week
Process, print and mail statements to patients within one or two business days!
Reporting Gives You What You Need to Know
With DentalVision® Enterprise, your data is your data. By utilizing a true SQL database, DentalVision® Enterprise provides you unlimited flexibility. We provide the data definition tables so you know where the data resides and how to access it for your needs. No longer are you limited to canned reports. DentalVision® Enterprise allows you to:
Use Microsoft® Excel® to create Pivot tables directly from your data files
Use our integrated NotePad to extract data in virtually any sequence with any sort order you desire. The resulting search can then be exported to any standard data format
Don't Just Manage Insurance Claims, Maximize the Benefits
Your practice probably deals with hundreds of benefit plans. DentalVision Enterprise allows you to take control over all of these plans with a powerful benefits management tool. The basics such as maximums, deductibles and renewal dates are only the beginning when it comes to proper management of benefits.
The ability to limit recalls, properly coordinate primary/secondary coverage and assign the proper fee schedule, birthday and no duplication rules?as well as the means by which you assign primary vs. secondary coverage?are critical to your enterprise practice:
Manage up to four benefit plans per patient, as well as any combination of dental and medical coverage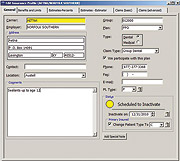 Insurance profiles:
Give information on the insurance coverage for this plan, including benefits, limits and deductibles.
Take control of your practice with the Patient Information Center
The Patient Information Center is designed to allow your staff to access a patient's information quickly and easily. Most software programs waste your time with simplistic, inefficient screens that cause the user to move from screen to screen to find information. This results in long-term inefficiency requiring a greater learning curve by forcing the user to learn more screens.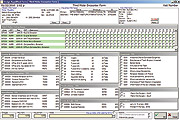 RapidPost™:
DentalVision® Enterprise's RapidPost technology streamlines patient processing while eliminating scanners, bubble sheets and paper scan forms.
RapidPost? Wireless Patient Processing
RapidPost technology streamlines patient processing while eliminating scanners, bubble sheets and paper scan forms?all in a real-time, wireless environment. RapidPost gives you secure, one-screen access to a patient's entire visit, making it quick and easy to input procedures, prescriptions, diagnosis codes and more. This innovative technology revolutionizes patient management from the operatory, reducing paper handling and posting errors. The easy checkbox layout can be executed from a tablet PC or any computer in your office.
Quick and Easy Electronic Claim Submission
Submitting insurance claims electronically eliminates the lag time and hassles, not to mention costs, associated with processing paper-based claims in-house. Now you can process all claims electronically and send any necessary attachments. Insurance companies generally process and pay electronic claims before all others, making electronic claim reimbursement much faster. Transmission can be accepted 24 hours a day, seven days a week, so you can send your claims at your convenience. A Submitter Report lets you know if something is wrong with a claim right away, and itemized Transmission Reports list each claim that was received complete and intact. Using the web-based reports is one step closer to going paperless.